pdfFiller is not affiliated with IRS
IRS 2106-EZ 2017-2023 free printable template
Show details
Hide details
Cat. No. 20604Q Form 2106-EZ 2017 This Page Left Intentionally Blank Page 3 Section references are to the Internal Revenue Code. See the line 6 instructions below for definitions. If you aren t required to file Form 2106-EZ enter your expenses directly on Schedule A Form 1040 line 21 Line 5. Future Developments For the latest information about developments related to Form 2106-EZ and its instructions such as legislation enacted after they were published go to www.irs.gov/Form2106EZ. 6 amount...
Get, Create, Make and Sign 2106 ez form
Get Form

eSign

Fax

Email

Add Annotation

Share
How to fill out irs form 2106 2017-2023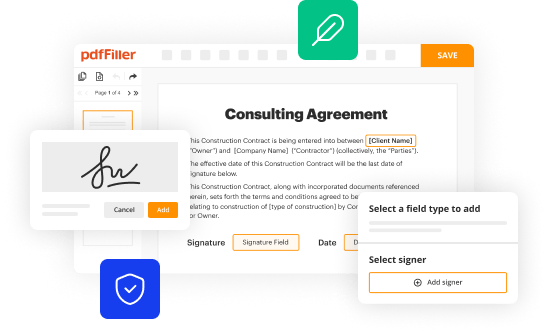 How to fill out IRS Form 2106:
01
Start by filling in your personal information, including your name, Social Security number, and tax year.
02
Enter the amount of reimbursed expenses you received from your employer, if any.
03
Calculate your total business expenses by categorizing them into various categories such as transportation, meals, and entertainment.
04
Complete the necessary sections for each expense category, providing details such as the date, purpose, and amount of each expense.
05
Determine whether you are eligible for the standard mileage rate or if you need to calculate the actual expenses for your vehicle.
06
Summarize your total expenses and subtract any reimbursements received to calculate your total deductible expenses.
07
Fill in any additional required information or explanations as instructed by the form.
08
Sign and date the form before submitting it to the IRS.
Who needs IRS Form 2106:
01
Employees who incur expenses related to their job or trade and are not reimbursed by their employer.
02
Individuals who are filing their taxes and need to claim deductions for their unreimbursed employee business expenses.
03
Taxpayers who meet the IRS requirements for deducting such expenses and want to lower their taxable income.
This is how it works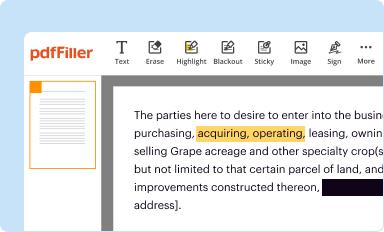 Edit your irs form 2106 2017-2023 form online
Type text, complete fillable fields, insert images, highlight or blackout data for discretion, add comments, and more.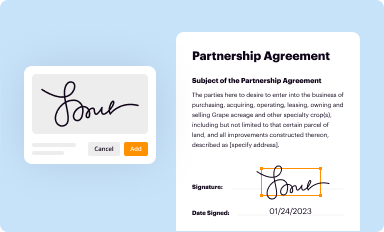 Add your legally-binding signature
Draw or type your signature, upload a signature image, or capture it with your digital camera.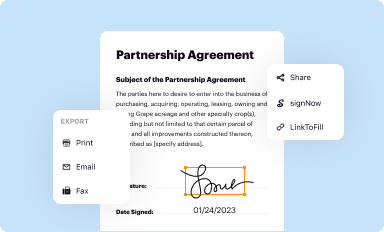 Share your form instantly
Email, fax, or share your irs form 2106 2017-2023 form via URL. You can also download, print, or export forms to your preferred cloud storage service.
Editing irs form 2106 online
Follow the guidelines below to take advantage of the professional PDF editor:
1
Create an account. Begin by choosing Start Free Trial and, if you are a new user, establish a profile.
2
Prepare a file. Use the Add New button to start a new project. Then, using your device, upload your file to the system by importing it from internal mail, the cloud, or adding its URL.
3
Edit unreimbursed employee business expenses form. Rearrange and rotate pages, insert new and alter existing texts, add new objects, and take advantage of other helpful tools. Click Done to apply changes and return to your Dashboard. Go to the Documents tab to access merging, splitting, locking, or unlocking functions.
4
Save your file. Select it in the list of your records. Then, move the cursor to the right toolbar and choose one of the available exporting methods: save it in multiple formats, download it as a PDF, send it by email, or store it in the cloud.
pdfFiller makes dealing with documents a breeze. Create an account to find out!
Form 2106 Instructions is not the form you're looking for?
Search for another form here.
Comments and Help with employee expenses definition
Who is Form 2106-EZ Important for?
Employees usually make use of Form 2106-EZ to hold back either necessary or ordinary expenses for the business. Necessary expenses are considered a helpful one and the ordinary expenditure refers just to a common business process.
How to Determine the Key Purpose of Form 2106-EZ?
An applicant is eligible to apply for Form 2106-EZ for claiming business expenses in case that person satisfies the whole set of requirements in the instructions added to the form. Do not mix up this statement with the standard 2106 one. The occasions include various types of entertainments, car expenses, corporate gifts, meals, etc. Moreover, it is recommended to save all receipts as confirmation.
What are the Deadlines for Filing Form 2106-EZ?
The due date of Form 2106-EZ is individually discussed with the employer. In most cases, it coincides with the termination of the business contract signed between both parties. All taxpayers should carefully investigate this issue.
What Other Forms can be Requested with 2106-EZ?
There are two other statements to be attached to Form 2106-EZ. The first one is 1040 and the second one is 1040NR (an applicant can opt for one of these two supplements).
What Information to Include in Form 2106-EZ?
As a common practice, the template involves two parts. First, your task is to calculate all working expenses (commuting fees, business trips, meals and other services like entertainment). Ultimately, you point out the general sum you get in the last line of the form. Then, the second part is to be filled in, if you use the car and claim for the expenses. If not, you skip it. Practically all details about the vehicle are depicted in this section.
Video instructions and help with filling out and completing irs form 2106
Instructions and Help about form 2106 turbotax
How to fill out the 2021 IRS form 1040 the 1044 may look complex however don't be overwhelmed with doing taxes and filling out the form here we will step through some of the more common lines for the 1040 to help give you an idea of what things you likely will need to fill out first what is form 1040 form 1040 is the U.S. individual income tax return it is a federal income tax form that people use to report their income to the IRS and claim tax deductions or credits it is used to calculate their tax refund and tax bill for the year you may file your tax return online with tax software, or you can also download form 1040 directly from the IRS website if you prefer to complete your return by hand what is on the 1040 tax form before we get into the details of the 1040 let's take a quick overview of what we will be looking at first it asks you who you are the top of form 1040 collects basic information such as your name address social security number your tax filing status and how many tax dependents you have...
FAQ
What is the purpose of irs form 2106?

IRS Form 2106 is used by employees to report certain work-related expenses that are not reimbursed by their employer. This form is used to calculate an employee's unreimbursed employee business expenses deduction. The deduction can reduce the amount of the employee's income that is subject to federal income tax.

What is the penalty for the late filing of irs form 2106?

The penalty for the late filing of IRS Form 2106 is 5% of any unpaid taxes for each month or part of a month the return is late, up to a maximum of 25%. Additionally, a minimum penalty of $205 or 100% of the unpaid tax, whichever is smaller, may apply.

What is irs form 2106?

IRS Form 2106 is an Internal Revenue Service tax form used to report employee business expenses incurred by individuals who are not reimbursed by their employer. It allows individuals to deduct qualifying expenses as an itemized deduction on their federal income tax return. This form is typically used by employees who work in jobs that require them to incur expenses related to their job, such as travel, education, or home office expenses.

Who is required to file irs form 2106?

IRS Form 2106 is used by employees to deduct ordinary and necessary expenses related to their job or profession that are not reimbursed by their employer. So, individuals who are employees and incur such work-related expenses may be required to file Form 2106.

How to fill out irs form 2106?

Completing IRS Form 2106 involves reporting your unreimbursed business expenses as an employee. Here's a step-by-step guide to help you fill out the form correctly: 1. Gather your documents: Collect all the necessary documents and receipts for your business-related expenses, such as mileage logs, travel receipts, and receipts for meals or entertainment expenses. 2. Start with the Personal Information section: Fill in your name, Social Security Number, and other personal information as required. 3. Part I - Employee Business Expenses: This section is used to report your unreimbursed business expenses. You'll need to provide details for various expense categories, such as: a. Travel: Include expenses for transportation, lodging, and meals during business trips. b. Meals and Entertainment: Report expenses for meals and entertainment related to your job. c. Transportation: Record expenses related to commuting, parking, and tolls if not reimbursed by your employer. d. Uniforms: Report costs for purchasing or cleaning required work uniforms. e. Other Expenses: Include any other qualifying business-related expenses not covered in the previous categories. 4. Part II - Reimbursed Amounts: This section is used to report any reimbursement you received from your employer for your business expenses. If you didn't receive any reimbursements, leave this section blank. 5. Part III - Expenses for Business Use of Your Home: Only complete this section if you use part of your home exclusively for business purposes. Consult the instructions to accurately calculate these expenses. 6. Calculate the totals: Add up the expenses in each category and enter the totals in the appropriate lines. Calculate the total for all expenses and enter it on line 9. 7. Signature and Attachments: Sign and date the form. If you're filing a paper return, attach Form 2106 to your tax return. If you're e-filing, keep the form and any supporting documents for your records. Remember to review the completed form and ensure accuracy before submitting it.

What information must be reported on irs form 2106?

IRS Form 2106, also known as Employee Business Expenses, is used to report unreimbursed employee expenses. These expenses are related to a taxpayer's job and are necessary for the performance of their duties. Here is the information that must be reported on Form 2106: 1. Personal information: The taxpayer's name, social security number, and filing status. 2. Job-related expenses: The taxpayer must provide details of the job-related expenses incurred during the tax year. This includes expenses for the use of a car, travel, meals, lodging, entertainment, and other business-related expenses. 3. Reimbursements: If the taxpayer received any reimbursements, they must report the amount received from their employer. 4. Meals and entertainment expenses: If claiming expenses for meals and entertainment, the taxpayer must provide details of each expense, including the date, purpose, and amount. 5. Car expenses: If claiming car expenses, the taxpayer should provide information about the mileage driven for business purposes, as well as other related car expenses such as gas, maintenance, and parking fees. 6. Total expenses: The taxpayer must calculate the total amount of job-related expenses incurred during the tax year. 7. Method of calculation: The taxpayer must indicate whether they are using the actual expense method or the standard mileage rate method to calculate car expenses. 8. Carryover of expenses: If the taxpayer has any unreimbursed employee expenses from previous years, they can report the carryover amount on this form. Finally, after completing Form 2106, the total expenses calculated are transferred to Schedule A (Itemized Deductions) on the taxpayer's Form 1040.

When is the deadline to file irs form 2106 in 2023?

The deadline to file IRS Form 2106 for tax year 2022 would typically be April 15, 2023. However, it's essential to note that tax deadlines can sometimes vary due to weekends or holidays. To get the most accurate and up-to-date information for the specific tax year, it is recommended to consult the official IRS website or a tax professional.

How can I get irs form 2106?

The premium subscription for pdfFiller provides you with access to an extensive library of fillable forms (over 25M fillable templates) that you can download, fill out, print, and sign. You won't have any trouble finding state-specific unreimbursed employee business expenses form and other forms in the library. Find the template you need and customize it using advanced editing functionalities.

How do I edit form 2106 instructions in Chrome?

Install the pdfFiller Chrome Extension to modify, fill out, and eSign your 2106 ez, which you can access right from a Google search page. Fillable documents without leaving Chrome on any internet-connected device.

How can I fill out form 2106 ez on an iOS device?

Get and install the pdfFiller application for iOS. Next, open the app and log in or create an account to get access to all of the solution's editing features. To open your form 2106ez instructions sample, upload it from your device or cloud storage, or enter the document URL. After you complete all of the required fields within the document and eSign it (if that is needed), you can save it or share it with others.